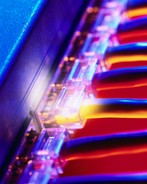 Are you confused by funny words like "router", "gateway" and "firewall"? Or what about non-words like "DHCP", "DNS", "TCP/IP" and "SMTP". Are you totally lost?
We try to simplify things for you, and present problems and alternative solutions to you in terms you can understand. You can then make informed intelligent decisions about the direction you want to go with your networking solution.
Sure, we know all about routers, hubs, gateways, firewalls, DHCP and DNS servers and all the other buzz words. We work with those things every day. But, we're in business to help you solve your IT puzzles, not make them worse!
Need a network set up? Give us a call. After all, we're your one-stop source for all your IT needs.